Maliestraat 13B 2514 CA DEN HAAG tel;06-57326535 mail; info@haagschevioolencello.com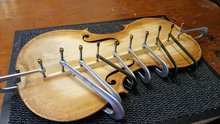 The atelier of Haagsche Viool en Cello offeres all kind of repair and restoration service.
Your violin went under a car? Here your violin wil be fixed.
If your beloved instrument is in trouble, call us and we will find the solution.